Real-time insights into consumer purchase behavior and feelings
My Reco is an ongoing entry (diary-style) survey conducted via smartphone. Consumers constantly carry their smartphones with them, enabling this service to gather real responses from them at almost any time. My Reco delivers fresh discoveries by collecting data that is close to the daily life of consumers.
Unlike conventional methodologies, My Reco does not rely on respondent memory or recall after the fact; rather, respondents use their smartphone to respond in real time, providing information on purchase behavior, attitudes and feelings, as well as sending photos. This methodology provides daily-life insights not available through typical written-format surveys.
INTAGE's My Reco solution enables you to:
Understand how products are actually purchased and used, without having to depend on respondents' memory or recall
Gather photos that show consumers' lifestyles as well as their emotions and feelings
Learn more about consumers' exposure to information and the lead-up to purchase
Create a body of panelists that will enter responses in an ongoing manner, long-term
Advantages of My Reco
● Leverages smartphones to capture daily moments in an ongoing manner
Respondents access a dedicated smartphone interface through our app, links, or e-mail at requested times. My Reco makes it easy for consumers to respond immediately wherever they are via its camera activation or auto-save functions when responding. My Reco can also gather locational information and bar codes.

● Trouble-free, real-time response monitoring and additional question functions
Response results can be monitored in real-time via dedicated website. My Reco also offers an individual question function that enables you to send probing follow-up questions on responses of interest, directly to the respondent.
● Delivers greater customization through combination with other kinds of research
Combining My Reco with FGIs, one-on-one interviews, or HUTs enables you to run pre-test research or perform real-time checks on the state of test product usage. It can also serve as a screening test before home visits.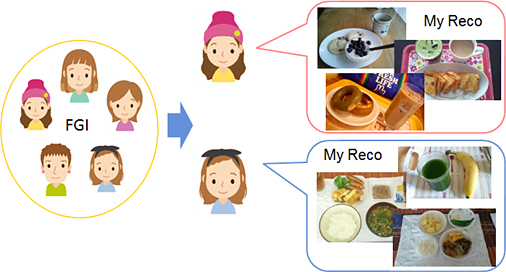 ● Provides excellent visual-based output and easy information sharing
Response results are delivered in table and tabulated formats, as well as visual-based output. Visual output is effective not only in analysis/discovery, but also in gaining identification/understanding.